---
👑 

VOTED

#1

PET BED IN 2022
 FREE 30-DAY RETURNS 📦
________
IS YOUR DOG NERVOUS, ANXIOUS, OR HYPER?
A new study by GreenElement has found the following in 2022:
Dog separation anxiety jumped well over 700% in only two years.
Fear of strangers surged, outpacing a fear of loud noises to become the leading cause of anxiety in dogs after a 295% increase since 2020.
Anxiety caused by other cats or dogs jumped significantly in dogs—from just 16.5% in 2020 to 43.52% in 2022.
That's why we partnered with Veterinarians to design the AnxietyBed™
MINIMUM COST - MAXIMUM COMFORT

As pet owners, it is our responsibility to ensure that our pets feel relaxed and safe at all times.
That's why at CleverGood, we've minimised the cost of production of our AnxietyBed™ while maximising quality.
This allows us to provide amazing quality for a completely comfortable and calming pet bed, at an incredibly affordable price. 
Just look at our happy customers!
MIMICS A MOTHERS COAT

The luxuriously super soft faux fur mimics a mothers coat, while the round design mimics a mothers coiling body, providing your pet with a sense of security and warmth.
SUPPORT FOR A HEALTHY PET
The raised ring provides head and neck support while the super soft filling offers joint and muscle pain relief.
The bed consists of a water and dirt-resistant, non-slip bottom, and durable nylon and cozy cotton.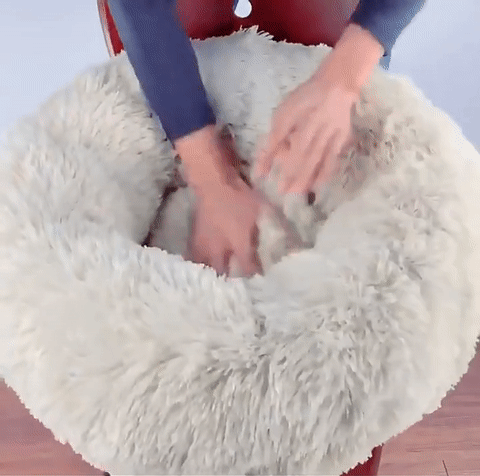 MACHINE WASHABLE
When the bed gets dirty, throw it in the washing machine on a gentle cycle and dry it on low heat.
SIZING
40cm
Chihuahua, young puppy, small cat, kitten, other small pets.

50cm
Maltese, Pomeranian, young puppy, cat, other small pets.

60cm
Shih Tzu, French Bulldog, Boston Terrier, other small dogs.

70cm
Beagle, Scottish Terrier, Shetland Sheepdog, other medium dogs.

80cm
Boxer, Cocker Spaniel, Basset Hound, Bull Terrier, other medium dogs.

90/100cm
German Shepherd, Golden Retriever, Rottweiler, Pitbull Terrier, other large dogs.

110/120cm
Great Dane, Irish Wolfhound, English Mastiff, other extra large dogs.
NOTE: FOR EXTRA COMFORT, WE RECOMMEND 1 SIZE BIGGER
INCLUDES
x1 AnxietyBed™
We estimate a 7-day shipping time during holiday periods due to high demand.
Holiday periods include but are not limited to Valentines day, Saint Patricks day, Independence day, Halloween, Black Friday, and Christmas.
There are 3 order fulfillment stages:
Stage 1 - your order undergoes rigorous quality assurance protocols.
Stage 2 - once your order passes quality assurance, it is carefully and securely packaged.
Stage 3 - your order is then passed into the hands of our couriers and quickly delivered to your provided address.
Don't worry!
Get in touch via our Contact Form to begin the resolution process.
You will be asked to send pictures and videos of the fault, at which point our team will make a decision.